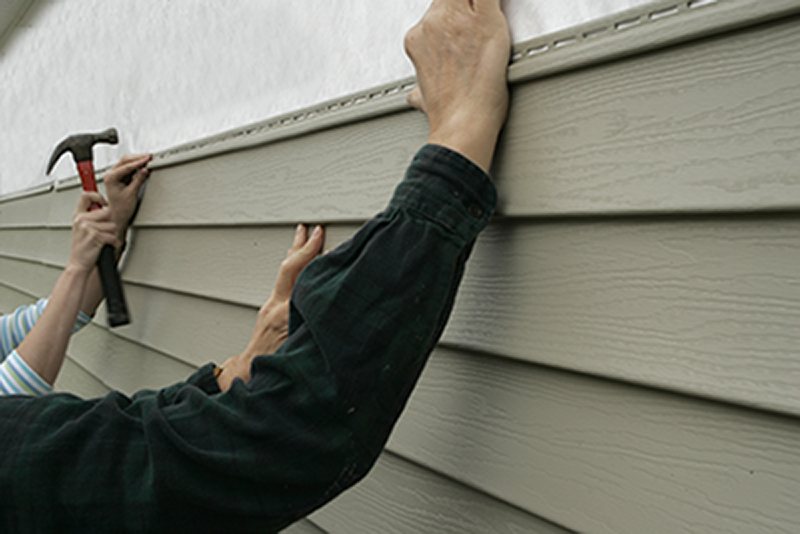 A powerful storm can do a number to your home. Often the first fatalities to powerful wind and flying debris is your house's roof and siding. When repairing your home, you shouldn't need to go and hire multiple contractors to carry out jobs for both roofing and siding. That is exactly why we at TopRidge Roofing are here to offer both roof repair and storm damaged siding repair.
At TopRidge Roofing, we are here to help restore your home back to normal. Whether hit by a devastating storm or a random tree branch decided to land on your roof, our team of professionals do much more than just roof leak repair. So, if you are in need of siding repair, schedule an inspection and free estimate by one of our storm damage experts.
Common Cause of Siding Damage
Siding is typically made up of a strong, durable composite material, designed to handle a considerable punishment. However, even the strongest siding has its limits. Strong wind often doesn't directly damage the siding. It simply blows entire panels off of your home. Once ripped from its installation point, the blown away siding likely needs to be completely replaced. Other times, hail can cause crater-like impacts around the siding. It may also cause cracks and sheer off sections from the house.
Regardless of the cause, repairing the damage is essential as it prevents moisture, insects and animals from reaping additional problems on your home through the exposed area. 
Color Matching
When replacing damaged or blown away siding panels, it is important for the look of your home to match the current color you have in place. Depending on the age of your home, this may prove more difficult for some contractors than newer homes. Even the slightest difference in shade can instantly become noticeable, even by those who drive by. Providing a perfect match is just one of the services we providing when repairing home siding caused by storm damage. 
No Job is Too Big or Too Small
Damage sustained to your siding is often unpredictable. Sometimes a roof may take the entire brunt of the damage, while only a panel or two has blown off. Other times your roof may only need minor patchwork while a substantial amount of siding has been damaged. Regardless of the damage or the size of the job, our team at TopRidge Roofing is ready to put your home back together. 
Request a Free On-Site Estimate